Highway 61 is a blues rock band from Los Angeles whose debut album was recorded 30 years after the band broke up. And it only took a worldwide pandemic, a near-fatal bout with Leukemia, and the death of their mentor to make it happen…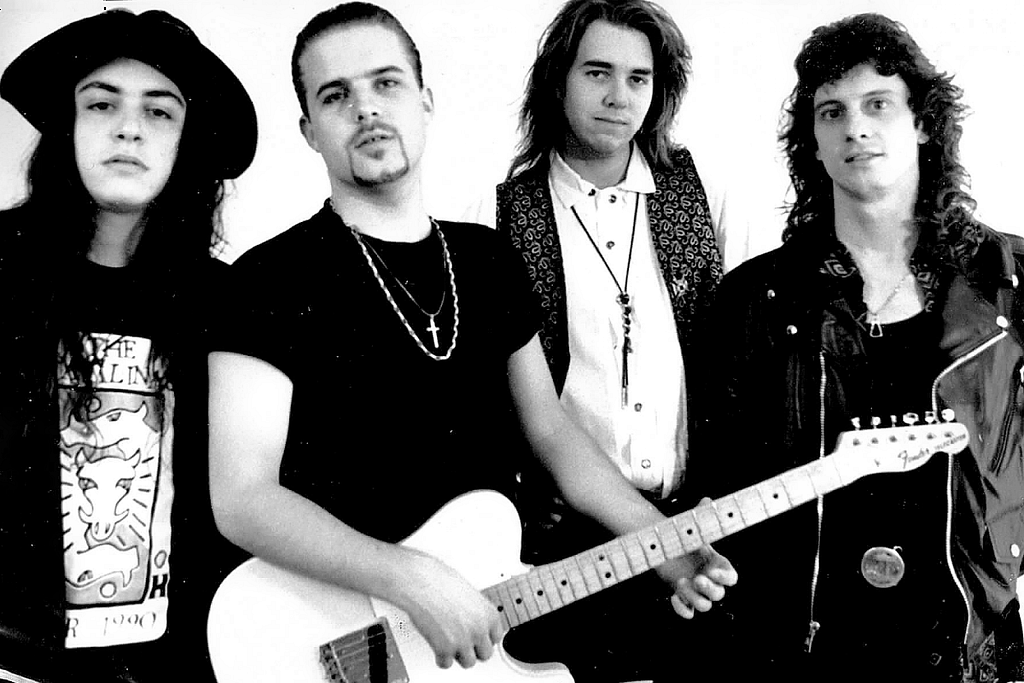 1990-1993

In the early 90's Highway 61 paid our dues performing 100's of shows at every dive bar and club in Southern California. Despite endorsements from Bud Light, G&L Guitars, BBE, Pick Boy Picks and Ernie Ball strings we never got that elusive record deal.
Highway 61 began in the early '90s and tore it up on the local scene alongside bands like B.B. Chung King & the Screaming Buddaheads, Burning Tree, and The Havalinas, yet never managed to get that elusive major label record deal. "We were young and committed to constantly rehearsing, writing, promoting, and playing stellar shows," recalls drummer Knutson. "Being one of the first bands to be sponsored by Bud Light allowed us to play larger venues and blues festivals with great backing and support from a legitimate company. We even wrote a theme song and appeared in a TV commercial but eventually we got burnt out, the scene changed, and we split up."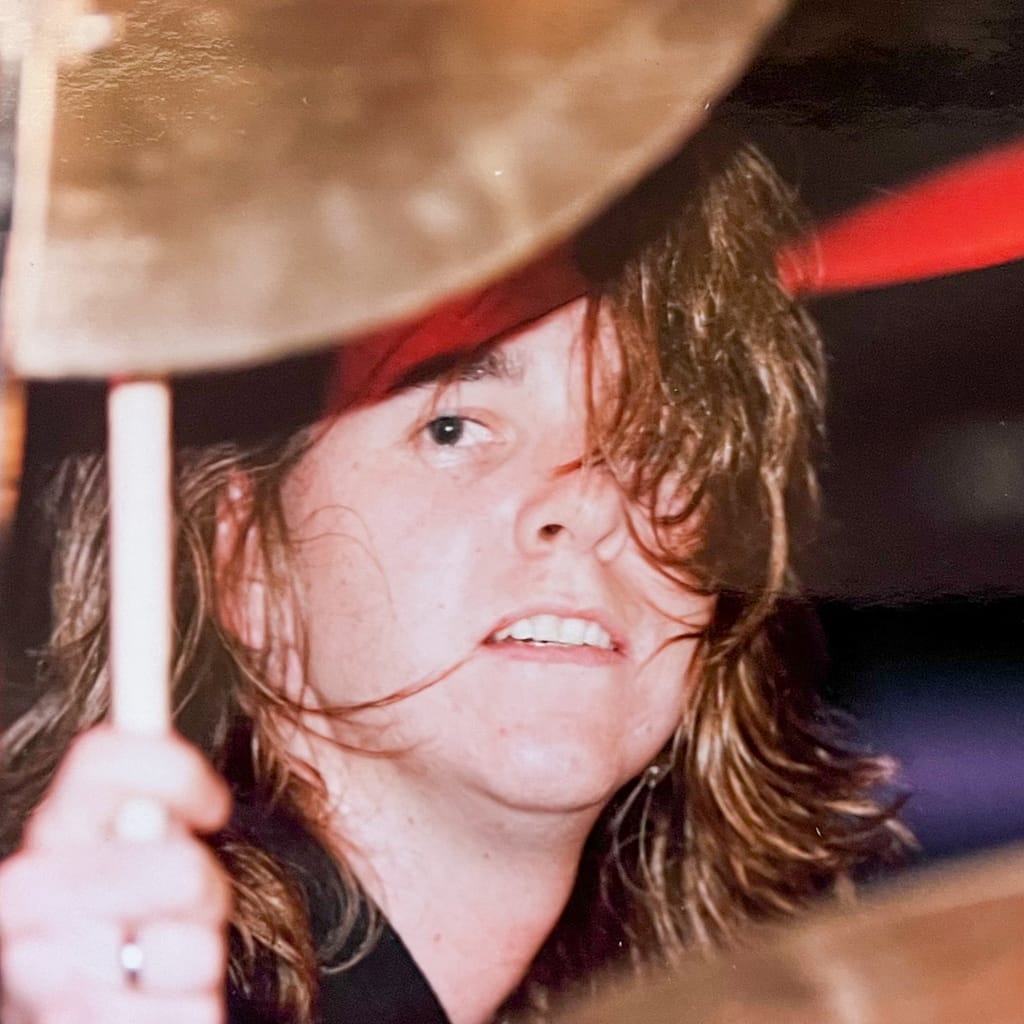 After breaking up in 1993, singer/guitarist Frank Meyer went on to form award-winning punk outfit The Streetwalkin' Cheetahs and play alongside Rock 'n' Roll Hall of Famer James Williamson (Iggy and the Stooges), rock legends Cherrie Currie (The Runaways), Wayne Kramer (MC5), Sylvain Sylvain (New York Dolls), heavy metal hero Thor, and many more. But the blues came a-callin' once again and in summer 2022 Meyer reunited with the original Highway 61 members to record a 10-song album called Driving South to be released in 2023.
"Thirty years is a long time, and during that time the music we created still resonated in me," admits bass player Loeffler. "While continuing to write and play music, I always wondered what the others were doing. We spent an enormous amount of time together, rehearsing, writing, traveling for shows, and becoming a family. When Frank called me in 2022 about finishing what we started, I didn't hesitate."
After the band's breakup in 1993, the guys stayed friends and occasionally collaborated, but it took an unfortunate event to reunite the band. In 2020, as the pandemic hit, guitar player Medway was diagnosed with Leukemia. After a year of chemotherapy, Medway had a bone marrow transplant, which required more than a year of recovery and isolation that was followed by a series of complications and setbacks.
"Frank was great about staying in touch with me during my recovery and encouraging me to play music even when I didn't know if I would ever be able to play again," admits Medway. "Music truly is the great healer."
Inspired by the challenge, Medway started firing off ideas. Soon he and Meyer had written several songs, including the Driving South track "Black Magic," which led to the reunion with Knutson and Loeffler.
In summer 2022, the foursome reconvened for the first time in decades at Kitten Robot Studios in Los Angeles with producer Paul Roessler (The Screamers, 45 Grave, Nina Hagen) to make Driving South, which mixes doses of The Rolling Stones and Tom Petty with dashes of The Black Crowes and Stevie Ray Vaughan. The band ripped through the entire album in a weekend, finally tracking fan favorites like "Baby, Where's You Stay Last Night" and "Supernatural Monkey Child," alongside brand new song "Black Magic."
2022-2023
After a nearly 30 year hiatus Highway 61 returned in 2022 to record their debut album Driving South which will be released by Rum Bar Records in March of 2023.
In January of 2023 Highway performed our first shows in 30 years to a fantastic response. A short time later they were signed by Gregg Bell of Wanted Management and booked a slate of shows in South California around the release of Driving South.

Driving South also salutes Highway 61 mentor Alan Mirikitani, a.k.a. blues guitar master BB Chung King, who sadly passed away in 2015. "Walk on Water" and "Breath Away" feature unreleased solos Mirikitani recorded with the band in 1992. In an incredibly emotional reunion, "Walk on Water" also features Mirikitani's daughter Alana Mirikitani on backing vocals joining the two artists on an album for the first time.
"Alan was a huge influence on the band," says Meyer. "We played tons of gigs together and he taught us everything from stage presence to amp settings to lead guitar techniques. We are thrilled to be able to bring the sound of his guitar back and reunite him with his daughter through our music."
To bring things full circle, former Buddahead and friend of the band Kellie Rucker contributes smoking blues harp and backing vocals on "Bad Day."
Since reuniting, Highway 61 has issued several tracks from the vaults on Bandcamp including Loaded Live, an EP that captures the band live-in-studio circa 1992. With live dates already booked, Highway 61 will be playing gigs, making music videos, and doing press throughout 2023 to promote the release of Driving South.
MEET THE BAND
HIGHWAY 61 BLUES ROCK Music FROM LOS ANGELES